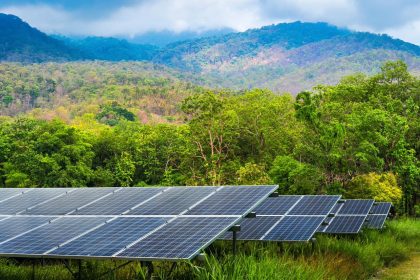 Africa Carbon Markets Initiative's (ACMI) mission is to enable the growth of carbon markets across the continent, with a target of USD 100 billion in annual carbon credits issued by 2050. For this to happen, there needs to be a strong push in policy and regulatory capacity building, so that countries can establish frameworks for the exchange of carbon credits.
With this in mind, Sciences Po's Paris School of International Affairs (PSIA) and its European Chair for Sustainable Development and Climate Transition, in partnership with ACMI and the Africa Europe Foundation, ran a Carbon Markets Training for Policymakers and Practitioners course from 11-13 October.
The course explored the untapped potential in African carbon markets and addressed the economic and regulatory aspects necessary for developing these markets.
Approximately 20 participants from either government or the private sector in Nigeria, Ghana, Mozambique, Malawi, Rwanda, and Kenya took part in workshops focused on designing effective carbon markets and attracting investments in high-integrity carbon credits.
The trainings were led by experts from the International Carbon Action Partnership, IEA, International Emissions Trading Association (IETA), European University Institute and Integrity Global Partners. Their covered topics included:
Introduction to Carbon Markets: Stefano De Clara from the International Carbon Action Partnership (ICAP) provided an overview of carbon market mechanisms.
Energy and Climate Trends in Africa: The International Energy Agency (IEA) team led by Darlain Edeme, Emma Gordon, and Luca Lo Re discussed hydrogen production, clean cooking solutions, and clean energy investments in Africa.
Voluntary Carbon Markets and Article 6 of the Paris Agreement: Andrea Bonzanni from the International Emissions Trading Association (IETA) explored opportunities for Africa in voluntary carbon markets.
EU Emission Trading System Lessons for Africa: Jos Delbeke, EIB Chair on Climate Policy, highlighted key lessons from the EU Emission Trading System.
Geopolitics of Energy and Climate in Africa: Philippe Copinschi from Sciences Po discussed the geopolitical aspects of energy and climate in Africa.
Designing a Carbon Market: Stefano De Clara (ICAP) shared insights into designing effective carbon markets.
The EU's Carbon Border Adjustment Mechanism: Thierry Bros from Sciences Po discussed the potential impact of CBAM on Africa.
Attracting Investment in High Integrity Carbon Credits: Naomi Swickard from Integrity Global Partners (IGP) provided strategies for attracting investment in carbon credits.
The event also featured an opening address from PSIA Dean Arancha Gonzalez and by ACMI CEO Paul Muthaura.
Speaking about her participation in the training, Anacleta Chiangua, who works for the Ministry of Energy and Finance in Mozambique, said: "The trainings provided local professionals with the knowledge and skills possible to develop, monitor and report on emissions reduction projects, ensuring that activities are aligned with international standards. This allows Mozambique to develop the capacity to identify, evaluate and implement emission reduction projects, which can be financed through carbon markets, and actively participate in global carbon markets, establishing partnerships and attracting foreign investment."
Given the positive reception of this inaugural training, the ACMI team is now exploring future trainings to continue to build capacity in carbon market development across the continent.