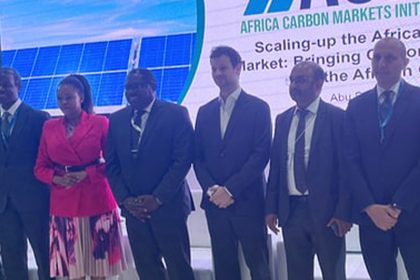 Africa Carbon Markets Initiative (ACMI) launched at COP27 with the aim of dramatically scaling voluntary carbon markets across Africa by:

Scaling the market to 300 million carbon credits retired annually by 2030, and 1.5 billion credits annually by 2050
Unlocking $6 billion in revenue by 2030 and over $120 billion by 2050
Supporting 30 million jobs by 2030 and over 110 million jobs by 2050
7 countries have signed up including Burundi, Gabon, Kenya, Malawi, Mozambique, Nigeria and Togo
$200 million advanced market commitments
Announces roadmap to COP 28, including 13 action programs
16 January 2023, Abu Dhabi – Today, the Africa Carbon Markets Initiative (ACMI) announced 13 action programs. Steering committee members, made up of African leaders, CEOs, and carbon credit experts, met at Abu Dhabi Sustainability Week to build on early momentum and set out further ambitions.
In the lead-up to COP 28, ACMI's ​​action programs aim to accelerate Africa's participation in the global carbon market by:
Launching country activation plans for multiple countries.​​
Advancing market commitments with an ambition up to $ 1 billion for the purchase of high-integrity African credits.
Developing projects based on new methodologies and the realities of Africa such as diesel replacement credits and biodiversity credits.
Increasing a significant volume of credits on the continent.
ACMI was inaugurated in November 2022 at COP 27 with a bold, long term-ambition for the continent – to reach 300 million credits retired annually by 2030. This level of ambition would unlock $6 billion in income and support 30 million jobs. By 2050, ACMI is targeting over 1.5 billion credits annually in Africa, leveraging over $120 billion and supporting over 110 million jobs.
At COP 27, $200 million was secured in advanced market commitments from global corporates. In addition, seven ​​​​African nations signed up to develop country carbon activation plans including Burundi, Gabon, Kenya, Malawi, Mozambique, Nigeria and Togo. A further 7 corporate buyers and 7 countries approaching commitment to the program demonstrate the progress made in the past two months.
During the launch of ACMI at COP 27, H.E. William Samoei Ruto, President of the Republic of Kenya said "Our people have the potential to play a unique, indispensable, and globally significant role in the prevention and mitigation of emissions, protection of crucial ecosystems and the restoration of precious carbon sinks. The urgent actualisation of these critical interventions offers humanity its best chance of prevailing in the existential contest with climate change-induced catastrophe. The good news is that the world has a golden opportunity to rapidly achieve these objectives. By developing a robust, transparent and sustainable mechanism through which a carbon credits market can yield attractive income and development opportunities for communities at the frontlines in the fight against climate change."
​​​Damilola Ogunbiyi, CEO and Special Representative of the UN Secretary-General for Sustainable Energy for All and Co-Chair of UN-Energy states, "The African carbon market Initiative will be a transformational opportunity for Africa, with the potential to unlock billions in climate finance to support economies while expanding energy access, creating jobs, safeguarding biodiversity, and driving climate action towards our joint Paris goals."
​​​Joseph Nganga, Vice President, Africa, for the Global Energy Alliance for People and Planet noted, "Current levels of climate finance fall short of Africa's needs. The continent requires US$3 trillion to implement its aspect of the Paris Agreement, yet less than US$20 billion was provided in total to Africa between 2016 and 2019. Voluntary carbon markets can play a crucial role in filling this finance gap, but its potential is far from being realised. The Africa Carbon Markets Initiative can help us achieve a more rapid and equitable energy transition for Africa, a transition that supports lives and livelihoods with clean, reliable energy while countering the existential threat of our time, climate change."
Executive Secretary of the United Nations Economic Commission for Africa, Antonio Pedro has emphasised, "Africa is at the centre of the opportunity to develop the voluntary carbon credit market in a way that accelerates climate action, fosters shared value creation and creates sustainable livelihoods for communities at this time of global economic uncertainty. To recover from the global pandemic and to address the food and energy crisis which impacts Africa the most severely, we need to rethink Africa's economic model- shifting to invest in sustainable value chains that deliver jobs and resilience. The Africa Carbon Markets Initiative aims to provide realistic, transparent and reliable pathways for investment."
Bogolo Kenewendo, Special Adviser & Africa Director, The Climate Champions Team said, "Africa is undoubtedly the nature-positive economic superpower of the world. With access to the global voluntary carbon market, valuing and commercialising nature assets could unlock new financing opportunities for development for Africa. This market, operating with integrity, equity and transparency, could help Africa deliver on three fronts: nature, climate and development".
Dr Mahmoud Mohieldin, UN Climate Change High-Level Champion for Egypt and COP 27 stated, "The world has no shortage of financial resources, scientific ingenuity, and technological wherewithal to deal with the climate crisis. What has been lacking is leadership that will marshal the resources and solutions for the parts of the world that desperately need them for the sake of the protection of nature assets and actioning a just transition that will help us all attain our 1.5 degrees ambition. ACMI is designed to create space for the public & private sectors to marshal assets to financial flows"
ACMI was launched in collaboration with The Global Energy Alliance for People and Planet (GEAPP), Sustainable Energy for All (SEforALL), and the UN Economic Commission for Africa, with the support of the UN Climate Change High Level Champions.
---
About the Global Energy Alliance for People and Planet (GEAPP)
The Global Energy Alliance for People and Planet (GEAPP) is an alliance of philanthropy, entrepreneurs, governments in emerging and developed economies, and technology, policy, and financing partners. Our common mission is to support developing countries' shift to a clean energy, pro-growth model that ensures universal energy access and unlocks a new era of inclusive economic growth, while enabling the global community to meet critical climate goals during the next decade. In doing so, as an Alliance we aim to enable 150 million sustainable livelihoods, reduce 4 gigatons of future carbon emissions, and expand clean energy access to one billion people. With philanthropic partners IKEA Foundation, The Rockefeller Foundation, Bezos Earth Fund, GEAPP works to build the enabling environment, capacity, and market conditions for private sector solutions, catalyze new business models through innovation and entrepreneurship, and deploy high-risk capital to encourage private sector solutions, and assist just transition solutions. For more information, please visit www.energyalliance.org and follow us on Twitter at @EnergyAlliance.
About Sustainable Energy for All
Sustainable Energy for All (SEforALL) is an international organization that works in partnership with the United Nations and leaders in government, the private sector, financial institutions, civil society, and philanthropies to drive faster action towards the achievement of Sustainable Development Goal 7 (SDG7)—access to affordable, reliable, sustainable, and modern energy for all by 2030—in line with the Paris Agreement on climate. Follow us on Twitter, LinkedIn, Facebook, Instagram and YouTube.
About the United Nations Economic Commission for Africa
Established by the Economic and Social Council (ECOSOC) of the United Nations (UN) in 1958 as one of the UN's five regional commissions, ECA's mandate is to promote the economic and social development of its member States, foster intra-regional integration, and promote international cooperation for Africa's development. Made up of 54 member States, and playing a dual role as a regional arm of the UN and as a key component of the African institutional landscape, ECA is well positioned to make unique contributions to address the Continent's development challenges. ECA has supported the development of carbon markets in Africa by assisting in the creation of a regional register for carbon credits in countries of the Congo Basin.
About the UN Climate Change High-Level Champions
The UN Climate Change High-Level Champions engage non-State actors to support governments in delivering the goals of the Paris Agreement. Working with the Marrakech Partnership – a global alliance of more than 320 major initiatives and coalitions – the Champions enhance the ambition of cities, regions, businesses and investors and other non-State actors, to collectively race towards a fair, resilient and zero carbon world.