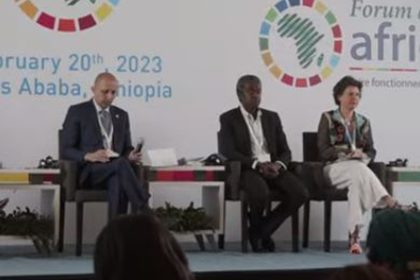 The 2023 edition of the Afrca Business Forum aims to build on the positive momentum generated at the 27th Conference of parties of the United Nations Framework Convention on Climate Change (UNFCC) held in Sharm El-Sheikh in November 2022 on the use of carbon credit markets as a means of accelerating climate action, and in particular generating investment into transformative economic action in African countries. It will bring together governments, private investors and civil society to facilitate investments in bankable projects that deliver meaningful climate action as well as generate high integrity carbon credits for Africa to accelerate investments and financing for sustainable development.
The sixth edition of the Africa Business Forum will be held under the theme "Making Carbon Markets Work for Africa". The Forum is scheduled to take place on Monday, 20 February 2023, at the Sheraton Hotel, Addis Ababa, Ethiopia, on the tail end of the 36th Ordinary Summit of the African Union Assembly of Heads of State and Government, from 09.00– 18.15 hrs. While participation will be primarily by personal invitation, a restricted number of seats will be open to prospective attendees whose registration must be approved prior to the Forum.
Please note participation in the Forum is self-sponsored. The event will be jointly convened by ECA and the African Export-Import Bank, under the leadership and with the support of the African Union Commission, and with Sustainable Energy for All, as a resource partner.
Africa Carbon Markets Initiative session – "Setting the scene: What are carbon markets and business opportunities for Africa?"
In this segment the scene will be set by providing a brief introduction to what carbon credits are and evolution of carbon markets; the types of markets and the importance of carbon markets as a source of revenue.
The Africa Carbon Markets Initiative will be introduced. This will be followed by a "Davos style" panel discussion to introduce the importance of the Integrity of Voluntary Carbon Markets and the need to move towards compliance.